What Opportunities Does Youtube Advertising Offer to SMBs in UAE?
Youtube Ads is one of the highly underestimated tools for advertising in the UAE market. That's why we will help you uncover the opportunities that Youtube Ads have to offer for your business and how to leverage them for more reach, sales and customer loyalty.
Youtube Ads in the UAE market
The numbers show that UAE boasts one of the largest percentage of social media user bases in the world. Out of the 9.47M citizens, 9.38M of them are active on social media. Which is basically around 99% of the total population. In UAE Youtube is the second most visited website in the after Google with more than 7.4M active user. It's the top 3rd search query in Google, and the 3rd most active social media platform with 79% of the UAE population being active users on it.
And it DOESN'T stop here!
According to similarweb analytics in HootSuite's We Are Social report, not only that Youtube ranks second in the monthly traffic among UAE internet users with more than 69M visits per month, the users also spend an average of more than 26 minutes on the website per visit. These numbers account for a whopping 1.8 billion hours watched per month (you read it right, 1.8 BILLION hours) in the UAE alone. If your business isn't a part of this, you're leaving money on the table.
How can Youtube Ads help SMBs?
With all this data on Youtube in the UAE, it represents a giant platform for businesses to gain exposure, engagement and customer loyalty through advertising video content through Youtube Ads. Especially for SMBs with its fast-growing nature. One of the powerful advantages for using Youtube for advertising video content is that, unlike regular tv commercial slots, it doesn't need a huge budget for the company to start using it.
On the other hand, when you run an ad campaign on Youtube, it gives you detailed statistics about how your audience is responding to your content. Through the analytics dashboard on Youtube or by using a third-party analytics tool, you're able to precisely track customers behavior regarding your video content. Which is much harder to do (if not impossible) for regular TV ad slots.
Multiple studies and statistics have been published showing that the online audience engages with video content more than we do with other forms of static advertisements, which means higher potential of engagement from video ads. It turns out, video ads are not only about advertising a certain product. It can be leveraged in even more powerful ways to enhance multiple aspects of businesses as well, not just revenue generation, through developing and promoting valuable content. Here's a few ways video can up-level SMBs.
Building Authority: Through how-to and tips videos, businesses are now positioning themselves as topic experts through video content. One of the brands that mastered this kind of Youtube content is Sally Hansen. If you don't know Sally Hansen, it's a company that sells nail products. Their official Youtube channel has a lot of nail care tutorials that reaches hundreds of thousands of customers. This helped them establish the brand not only as a "a company that sells nail products" but a leading authority in the nail care industry in general. This is a screenshot from their Youtube channel.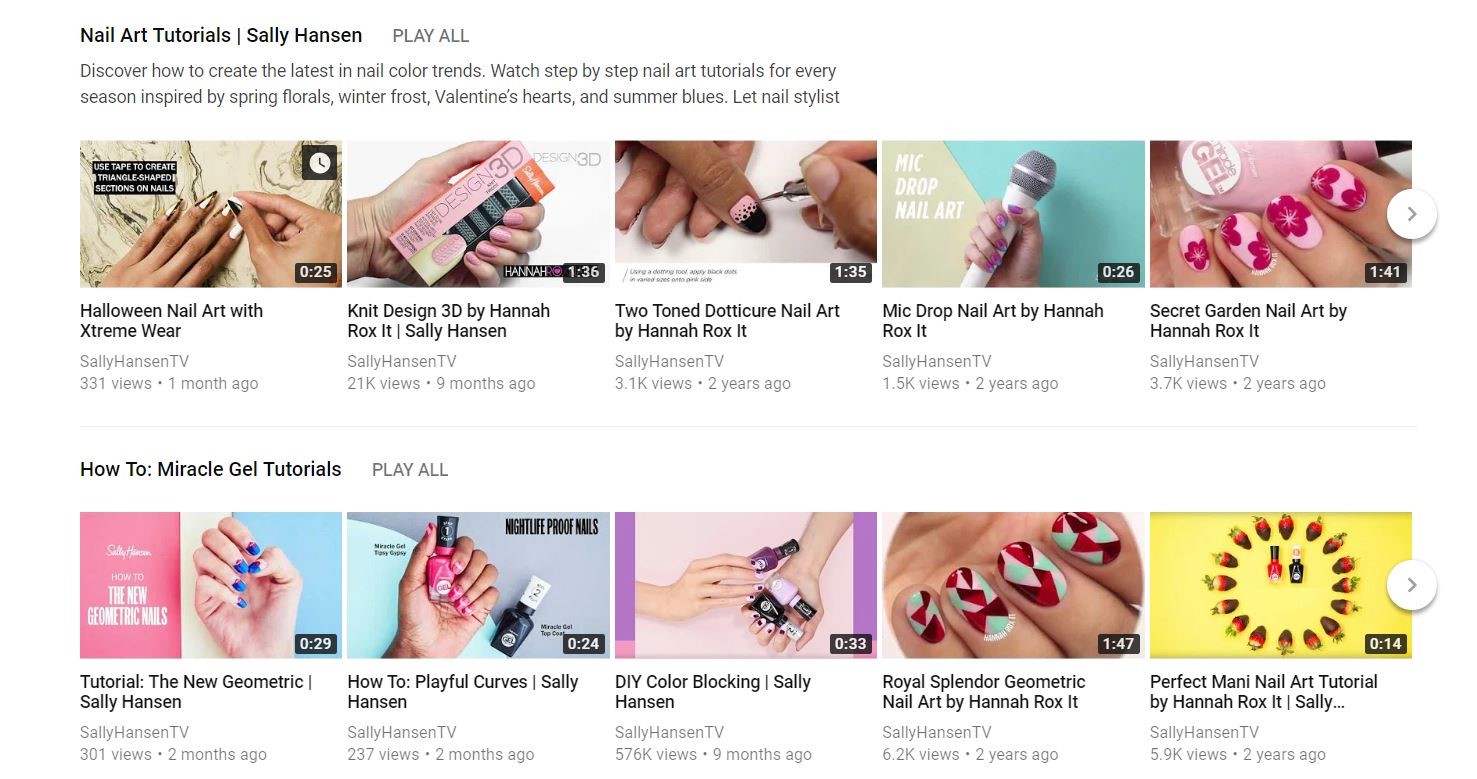 Fostering Credibility: Another way companies use Youtube is through testimonials. Customers will always be careful when they hear about the company's products from the company itself. A business will rarely talk in a negative way about its own products or show the full picture. That's why many businesses now use customer reviews and testimonials in advertising to bypasses these trust issues and increase the brand's overall credibility.
Customer Loyalty: On Youtube Ads, viewers are able to view the full-length Ad on the company's Youtube channel. A hidden benefit of this is that it opens the door to an extra layer of social customer engagement. They can ask questions, engage with other commenters and even share your ad if they liked it. So, instead of bombarding people with the ad and leaving (which is the case in most TV commercials) Youtube ads help businesses to foster a two-way communication channel with customers, getting feedback, shares and answering questions. When customers feel that the company cares about their opinion and truly listens, it takes customer loyalty to a whole new level.
The Perks of Youtube Targeting
Youtube Ads is a strong advertising platform, with well-crafted ad formats and sophisticated targeting tools and algorithms. The multi-layer audience targeting helps advertisers put the ad in front of relevant people. It would be useless to create the perfect ad campaign that doesn't reach your qualified users. The targeting options start with a simple demographic, affinity selection, interests and many other options to make sure your ad lands in front of the right people.
If your website already has good traffic coming into it, Youtube offers a remarketing tool that shows your video ads in front of customers who recently visited your online store. This increases the probability of conversions, as you already know that they are interested at some level in what you have to offer.
In addition to that, some of the Ad options that Youtube Ads offers different types of ad spaces, modes of advertising and features that are designed for convenience and cost-effectiveness. Like the TrueView ads, they don't charge the advertiser unless the viewer watched the ad and engaged with it. You get charged only when the user watches more than 30 seconds of the video. This means you are not going to get charged for users that skip your ad after 5 seconds or any views less than 30 seconds. That is a huge advantage since you only pay for "engaged" users.
If you aren't using Youtube Ads yet, then it's time to start integrating it into your marketing strategy.
Have you tried running Youtube ads? Let us know about your experience with Youtube ads in the comments section below.