Analyze Your Website's Findability in Less Than 60 Seconds For Free
As a UAE business, your website needs to be at 100% to ensure that it is contributing to business generation. Economic and online activity is expected to pick up pace rapidly and will accelerate to make up for the recent global slump. Which means that your website is now your new storefront. At bfound, we ask our clients the only question that matters now: Is your website truly findable?
The Answer: This 60 Second Scan
The bfound Online Wizard was created to provide a quick and comprehensive answer to this question. As a business owner, it will give you the opportunity (and information) you need about the strengths and weaknesses of your website.
Click here to run the scan for free now!
What Does The bfound Wizard Scan
The analysis includes everything from top-level information about your website (such as load speed, mobile responsiveness, etc.), to the more intricate details that can help your web development and SEO team hammer down on the factors that matter.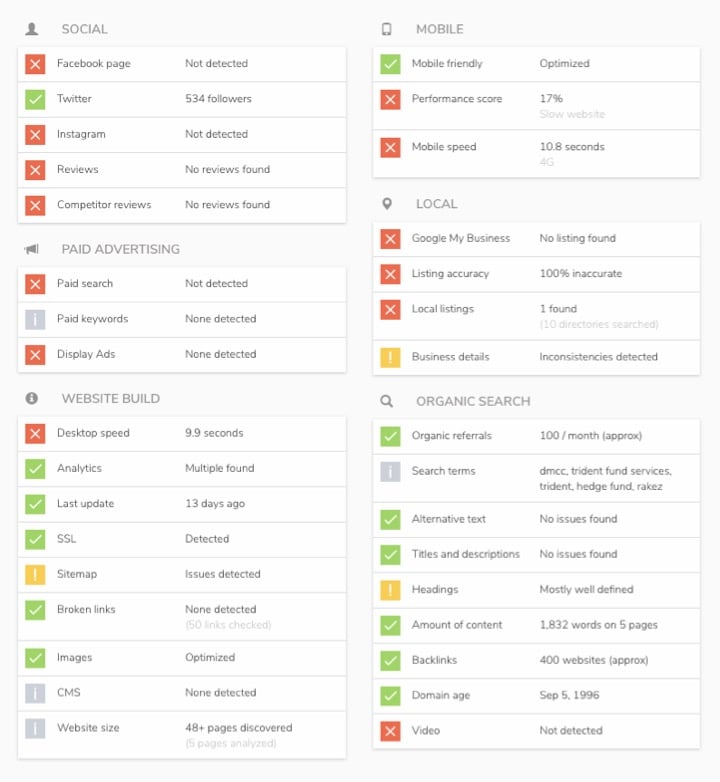 bfound Wizard Scan Screenshot
How Smart Is Your Website
You know that your website has to look good for your new and returning customers. And you've probably spent a lot of time to make sure it looks epic.
But at the same time it has to meet the requirements set by search engines and internet browsers in order to ensure that they are web-ready. These requirements have a direct impact on your website's web-presence and search ranking health.
Some of the most common must-have check boxes include loading speed, analytics integration, security, and mobile device readiness.
Your Website's Place In The World
Your website might be the best you've ever had, but it has to be geared up to compete with the competition. The bfound Wizard checks your website to see if it being properly updated and promoted, to compete adequately with your competition.
This also includes your website's listings health. Listings are the yellow pages through which people and apps find your business these days. For example, apps like Google Maps, Waze, Facebook and Instagram (when you're tagging your favorite coffee place), Uber, Uber Eats and WhatsApp need to make sure that your basic details are 100% accurate and uniform across the internet. These include your business name, business hours, address, phone number, etc. The bfound Wizard is the wisest in the land and is able to scan all listings platforms to see where your website stands.
Your Website's SEO
Your website's organic SEO is impacted by numerous factors, and the bfound Wizard checks every single one of them!
This includes checking your SEO health for all non-technical and technical perimeters including organic referrals, visibility for major applicable search terms, Alternative text, page titles and descriptions, headings, amount of content, backlinks, etc.
The Beauty Of It All
The beauty of the bfound Wizard scan is that business owners are able to get a clear picture of the things that matter –you can click on each of the perimeters to view additional details. The no-nonsense scan works quickly and transparently to give you a website audit that is exactly what you need to get your website ready for the influx of business opportunities that the coming year will bring.