bfound's Day On The Ground | Sharing The Joy Of Being Found
The day kicked off with a generous breakfast spread and a mission briefing by the CEO. bfounder's were loaded up with coffee and croissants before being split up into 2-man teams and assigned areas in Barsha and Karama.
The teams went from door to door, delivering bfound's message of better digital visibility and presence.
At the heart of the activity was a refer-a-business offer designed to give everybody a chance to make extra cash while bringing UAE businesses online!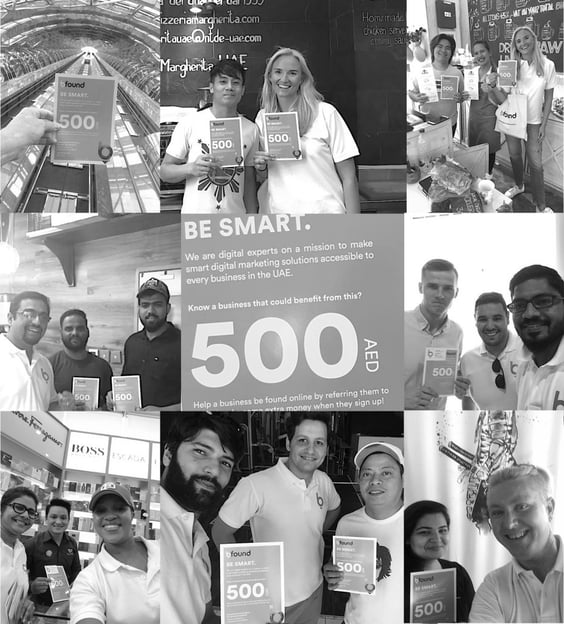 The brand new bfound website was geared up to support the campaign and individuals were shown how they could make guaranteed extra cash by referring businesses to bfound. Everybody from business owners to courier-service riders loved the simplicity of the idea.
All they had to do was log on to the bfound website and fill out their contact details along with the contact details of any business they thought could use better digital visibility and promotion. Referees were given the opportunity to win up to AED 500 (per signup) if any of their referred businesses signed up with bfound! Special flyers were also distributed to willing individuals who wanted to benefit from the offer.
After spending most of the day meeting some of Dubai's amazing residents, bfounders met up for a sponsored lunch and shared their experiences to help each other reach more people. After an hour of sharing amazing stories and gobbling equally amazing Shawarmas, the teams hit the road again and continued spreading bfound's message of peace, love and conversion-driven online visibility solutions.
The setting sun saw bfounder's head over to "Stars N Bars" at Jumeirah 1, for an eagerly awaited monthly briefing and much-needed snacks and drinks!
In the end, meetings were scheduled, new friends were made, coffee cups were consumed, and another day at bfound had come to a memorable end. Another great milestone had been achieved with many more to follow!